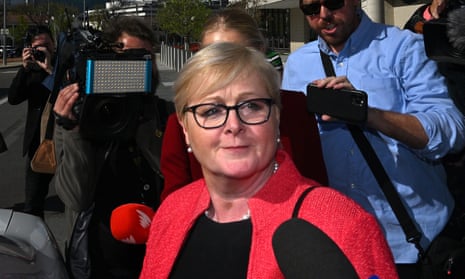 Reynolds, Robert, Molan and Hastie all ex-military personnel. It says a lot about the militaristic character they brought with them to Australia's parliament.
The Australian Capital Territory's top prosecutor privately complained of the "disturbing" conduct of former cabinet minister Linda Reynolds during the trial of Bruce Lehrmann, including her alleged coaching of his defence team, her attempt to solicit transcripts and the presence of her partner in court.
Guardian Australia revealed last week that the director of public prosecutions, Shane Drumgold SC, had sent a letter of complaint to the chief of police, Neil Gaughan, on 1 November, just after the trial against Lehrmann collapsed.
Lehrmann, who has consistently maintained his innocence, pleaded not guilty to one charge of sexual intercourse without consent. The collapse of his trial leaves him with the presumption of innocence.
Source: Bruce Lehrmann trial: ACT's top prosecutor complained about Linda Reynolds' 'disturbing' conduct | Australian Capital Territory (ACT) | The Guardian