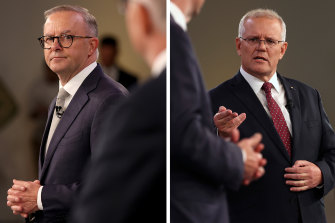 Morrison and Aesop's Fable
It's a case of the tent preacher leading a ragged bunch of camp followers into town banging his drum promising "miracles" having left disaster behind in his wake. It's the huckster promising the last 3 years didn't happen and weren't his fault that it was the opposition that made him do it. Yes, It's Morrison the grasshopper leaving our cupboard bare and a bill to pay, and the ant wanting, he, and his team to rebuild it. It's the hare prancing about like the energizer bunny doing little or nothing while the tortoise has been purposefully moving forward knowing what the race really means It's not about blind faith or optimism or blind trust but focused rational attention to work changing direction and everyone doing it together for their kids kids.
In a pair of opinion pieces commissioned by The Sun-Herald and The Sunday Age four weeks out from polling day on May 21, both men have laid out their visions for Australia's future – while emphasising the risks presented by their opponents.
Source: Election 2022: Scott Morrison and Anthony Albanese make their pitch to Australia's 4.6 million uncommitted voters