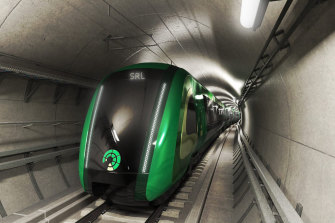 Morrison punishes Victoria a Labor State he knows he simply can't win. Smoothing the path for Matthew Guy in November his only hope. Morrison has to go!!
Even more interesting is The Age's opinion section. It  is currently promoting the witholding of funds by the Morrison government. It's a biased opinion and plain to see written by an member of none other than the Victorian LNP. No surprise now that Ch9 owns the  masthead and is run by Peter Costello. We must in the long term SAVE AND REVIVE OUR ABC
The Morrison government says Victorian Labor's multibillion-dollar Suburban Rail Loop does not "stack up", raising questions about the state government's ability to pay for the project if forced to go it alone. Urban Infrastructure Minister Paul Fletcher also hit back at attacks from the state government, which has criticised the Commonwealth for only allocating 6 per cent of the budget's infrastructure funding to Victoria, which is home to 26 per cent of the nation's population.
Source: Melbourne Suburban Rail Loop doesn't stack up, says federal government