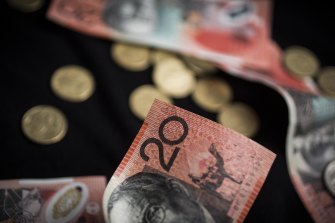 It's the  MINIMUM wage bar that is being raised not the wages of ALL workers. After all Stage 3 tax cuts are due and if there was any justice that should be dropped. Politicians will benefit from that cut along with the 2.75% increase just handed them. That could well be a kicker of more than a total of 5.2%. It makes them our employees coupled with allowances among the highest paid on the planet for managing a paltry 25M of us. We don't get a say in what we pay them.
So why on earth is there screaming when the lowest-paid workers have been found to be constantly ripped off and the politicians regularly caught with their heads in the trough. Minimum wage workers are doing more than one job to just survive in a world where the cost of living is going up because the previous government left the economy to the "efficiency" of the "free market" to exploit but not share the profits of real and increased productive labor. Inflation sets fire to the poor not the rich and the media amplify the noise.
Australia's lowest-paid workers will receive a $40-a-week pay raise from July 1 after the industrial umpire raised the national minimum wage by 5.2 per cent, the highest rise since 2006, in a decision praised by Prime Minister Anthony Albanese.