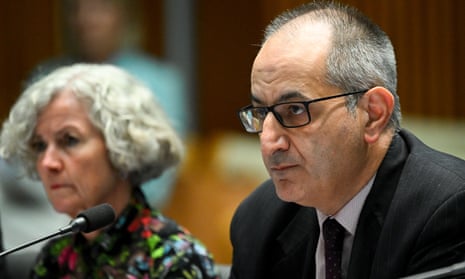 When the LNP were Government Pezzullo was very much "Minister Dutton's Spokesperson on Immigration" One Might well ask if he remained so after the May election and why Clair O'Neill asked "7 times" if all legal requirements had been fulfilled. It seems the Opposition was fully informed of the delay to do so and didn't seem to need to be informed
The home affairs secretary, Michael Pezzullo, on Monday revealed that the department was aware as far back as January 2021 that the designation allowing offshore processing at Nauru would need to be renewed, but failed to alert the home affairs minister, Claire O'Neil. This was despite O'Neil asking on "at least seven" occasions if legal requirements for Operation Sovereign Borders were in place.
The evidence to Senate estimates blunts the Coalition's attack on Labor over the issue as it also seeks to weaponise the abolition of temporary protection visas (TPVs) against the Albanese government. The Coalition has said the government's failure to renew the designation of Nauru when it lapsed in October shows Labor is soft on borders.
The home affairs department's lapse meant Nauru was not approved for immigration processing for four months
Source: Top public servant apologises for 'significant' error in Australia's offshore immigration processing | Australian immigration and asylum | The Guardian