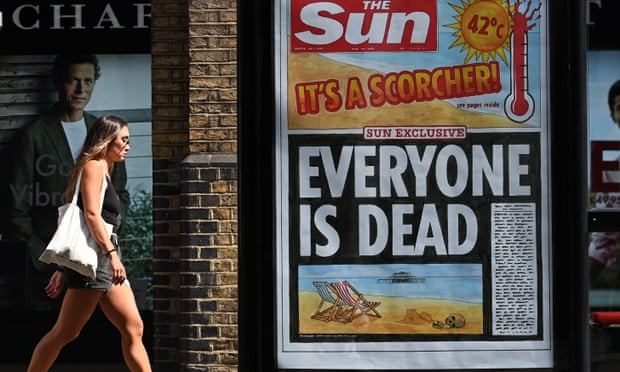 While Sky New's unmade bed Rowan Dean and Andrew Bolt continue to deny any emergency is imminent due to man-made climate change the rest of the world suggests they are the fruit cakes. Murdoch media's office windows were smashed in London for their refusal to even report on the global science in any balanced way simply for the sake of profit for their fossil fuel-based cash for comment denials,
The unprecedented heatwave and fires engulfing Europe might seem a long way away, but they are a frightening portent of what's in store for Australia.
Britain has just experienced its highest temperature on record, extreme conditions and fires are sweeping Spain, Portugal, France and Greece. But this is just the latest in a string of extreme events globally. In March, scientists were shocked by record temperatures at both poles, including temperatures up to 40C above normal in the Antarctic and 30C above normal in the Arctic. In May, devastating heatwaves across India, Pakistan and surrounding countries led to weeks where temperatures in some regions repeatedly hit almost 50C. This year has also seen extreme heatwaves in south Asia, China and the US.
Source: Ignoring warnings of Europe's extreme heatwave locks Australia into a worst-case scenario | Mark Ogge | The Guardian