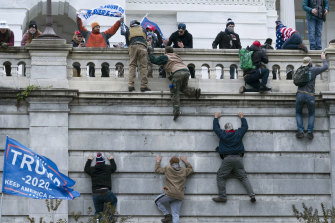 It's an Orwellian and cowardly move – suppressing rather than heralding the news.
a band of racists, goons, gun-nuts and thugs invading the seat of freedom and democracy, egged on by a malevolent and reckless conman –how this all happened should be of interest to most Americans. Yes?
Well, no. At least that's a "no" from Fox News. That's right, the nation's most-watched news network and the in-house news source for the American right, announced it would not carry the hearings live. Instead, it will run its usual evening line-up of hate-mongering political commentators, including Tucker Carlson and Sean Hannity. The network says it will run the hearings on its sister channel, the Fox Business Network, which has a fraction of the viewers, and on its streaming service.
This is plainly a move to minimise the import of the hearing. It's a political decision, not a news one. It's designed to reduce any cauterising effect a true account of how the insurrection unfolded might have on Fox's core viewership.
Source: Capitol crime as Fox News cancels the greatest show in town