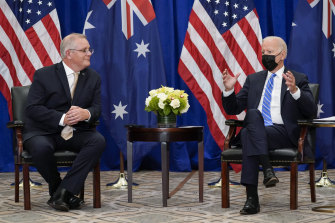 Australia's own GOLUM…. Imagine what an Integrity Commission would discover investigating his past 15 years. Yes, Morrison plays cricket with sandpaper in his pocket
What's his name asked Biden " That guy down Under"? Yes, that guy who wanted all the glory for himself  so risked jeopardizing the AUKUS. Only autocrats threaten a nation's security by not doing what was agreed on with Morrison's excuse "I thought they'd agree".
Morrison took a punt for his own political glory and lied to everyone, which made him totally irresponsible, untrustworthy, and duplicitous. He lied to our American, British, French allies, and even us to get the deal done for his sake not ours. To say otherwise is to declare he was smarter and not reckless. He truley is "The Unbelievable One" second only to Trump and look what he did to America's reputation. Morrison has trashed Australia in much the same way. Now the forever con man having been busted says he will change "that's a promise"
By waiting four-and-a-half months, the prime minister made AUKUS into a high-stakes, last-minute political gambit.
Source: AUKUS: Biden demanded bipartisan support before signing defence pact. Labor was not told for months
The Sydney Morning Herald and The Age revealed on Saturday that four-and-half months before the announcement on September 16, senior members of the Biden administration insisted that it would only consider pursuing the landmark AUKUS project if it had solid support from both major Australian political parties.
Instead, the Morrison government waited until the day before the announcement to brief Albanese and senior members of the opposition about the plan to build nuclear submarines with the help of the US and Britain.
Source: AUKUS pact: Albanese slams Morrison for not briefing him for months before announcement