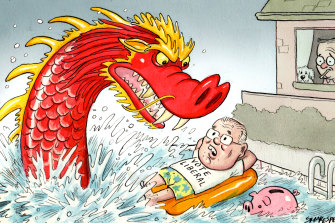 Before we'd even heard of COVID-19, before the first Wuhan bat had shed its first viral load, this government already had the worst fiscal record of any postwar government. Morrison's debt run-up makes Whitlam, Hawke, Keating and Rudd and Gillard look like skinflints.
The Coalition inherited gross national debt at 20 per cent of GDP. By the time COVID-19 struck, it had run it up to 28. There'd been no crisis, yet it created the biggest load of national debt since 1958, drawing on the budget papers and a 2019 Treasury research paper,A History of Public Debt in Australia, which provides a consistent time series back to 1908.
Today? The Morrison-Frydenberg gross national debt is 42.5 per cent of GDP. Peak Whitlam was 24.5. Peak Hawke-Keating was 24. Peak Rudd-Gillard Government debt was 20.
Source: Election 2022: Morrison a failure in fields he claims to have mastered and jury still out on Labor