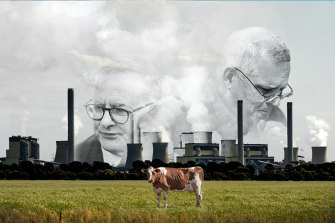 The Age claims it's not biased. But, if it hasn't overstated Albanese gaffe for over a week and continued to understate Morrison's several as simply slips or supported the proposition Albanese,a once Deputy PM and politician for 25 years, is "unknown" and therefore somehow a darker figure to back than warts, and all Morrison they now suggest falsely there's an equivalency between the ALP and the LNP on Climate. The ALP for a start wouldn't have had us be unsigned participants in a world agreed emissions target. Australia would today not be regarded as a global pariah on Climate and wouldn't be threatened with trade sanctions.
To what extent did LNP attitudes bring about ease with which China has now gained a presence in the Pacific?
One only needs to compare Team ALP with Team NLP and one doesn't need to be a genius to consider which is a Team and the other a discordant self seeking set of individuals who don't trust each other.
The disconnect is jarring when you look closely. After years of drought, fire and flood – and in the wake of a series of United Nations reports spelling out in terrible detail the catastrophic costs of inaction – Australia's major political parties are running cold on climate action.
Source: Australian climate change policy: What Liberal Party, Labor Party are offering