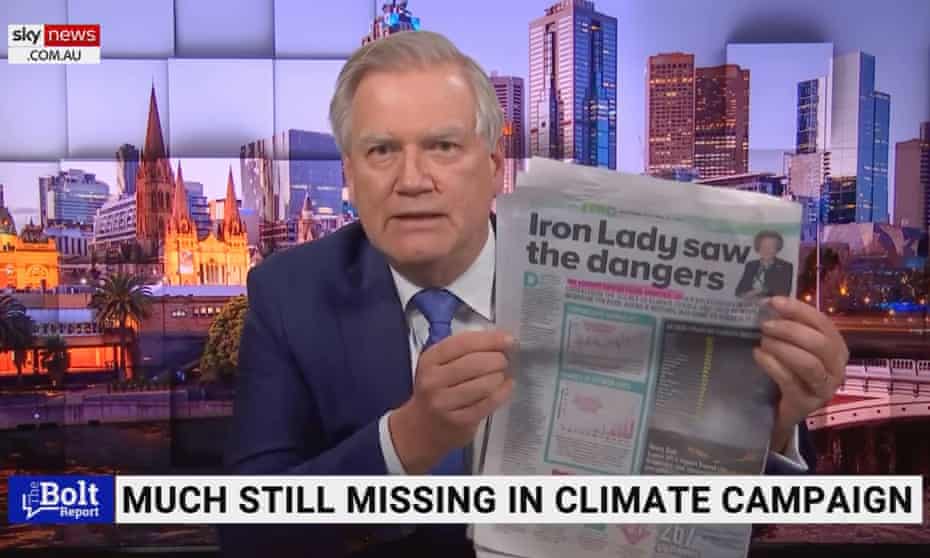 Andrew Bolt has had the rug "seemingly" pulled out from under his climate change denials by the very organization he works for and supports him. That should tell us it's a marketing promotion boosting Morrison's LNP, to seemingly change tack, on the promise of Net-Zero by 2050. For heaven's sake we were notified weeks ago that this campaign for Scott was coming. Of course it's is rubbish just as the Angus Taylor's argument that Net-Zero doesn't mean " zero carbon emissions". Slightly cleaner and more costly washed fossil fuels is then all they need do. Angus Taylor has guaranteed to fund CO2 emissions to the tune of $250bn if and when nobody else on the planet will.
As for Bolt's argument that News Corp's editorial change is "rubbish" well that's simply posturing, a performance to appear balanced and make noise. All they are doing is what Philip Morris did when it announced it would "un-smoke the world" while still continuing to sell as much tobacco as possible along with the other added carcinogens or tar. Yes Bolt's a participant because the campaign allows him the space to play the contrarian in the performance and repeat what it is he's been doing for the past two decades maintaining his ego and crafted media identity little else. After all he can't simply keep attacking Bruce Pascoe, Muslims, women and the ABC.
The prominent Murdoch commentator Andrew Bolt says News Corp Australia's major editorial campaign to speed up climate action is "rubbish" and the "global warming propaganda" provides political cover for Scott Morrison. "Millions of Australian readers would have got a shock this morning when they picked up their Murdoch newspapers around the country," Bolt told his Sky News Australia audience after the company published 16-page wraparounds in every tabloid.
Source: News Corp's Andrew Bolt says his company's climate campaign is 'rubbish' | News Corporation | The Guardian