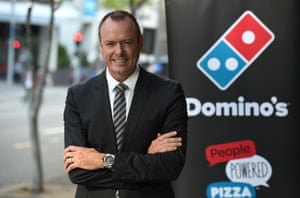 Chief executives are more likely to get fired than be denied bonuses for supposedly exceptional performance, an investor group says
Domino's Pizza boss Don Meij was the third highest-paid chief executive in Australia on $21m, a "remarkable" result given his reported salary was $4m, the report said.
Meij's windfall came from cashing in options on the back of a share price surge that came to a screaming halt this month when Domino's missed profit targets, and following months of publicity about problems in its franchises including claims of multimillion-dollar underpayments.
The averaged "realised" pay among ASX 100 chief executives in 2016 was $5.7m, which was 93 times the average Australian earnings as of last November.
Source: Executive pay: top bosses scoop average of $5.7m a year as bonus boom keeps on giving | Business | The Guardian