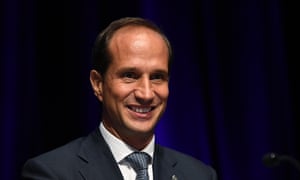 Unregulated insanity self-gratification and legalised theft. (ODT)
via AMP chief gets pay rise of up to $1.8m despite company posting $2.5bn loss | Australia news | The Guardian
Chris Bowen said the government's changes to the FoFA regulations had scored a "daily double" by reducing consumer protections from unscrupulous financial planners and increasing red tape.
"They've emasculated the requirement to work in the best interests of the client," he said.
Now, independent Senators Nick Xenophon and John Madigan have introduced two amendments to tackle the worst and arguably most potentially dangerous aspects of the Coalition's reforms – namely general advice and changes to the best-interests duty.
Considering the banks and AMP own or control up to 80 per cent of the financial planning industry, as Nick Xenophon put it,
"The financial services industry is big enough and ugly enough to look after itself and … consumers are the ones government should be providing with certainty and adequate protections."
But hey…we're open for business.  Caveat emptor.