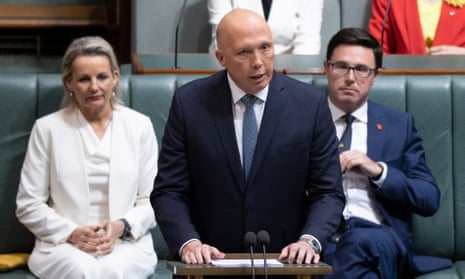 Dutton fail is to not talk of the change he helped create
The difference between a Secular Education in a Democratic Society and the Education a Coalition demands, isn't one that recognizes cultural, sexual, racial, or physical diversity or change. It's one that rather demands Assimilation, uniformity parental control and acceptance of a social order that has continued from the inherited past. A unifying secular democratic education threatens that. Dutton's education is assimilation, generational integration with the past and not problem-solving is what he's talking about when he says "discipline", "respect" " and "orderly" classrooms.
Dutton's education doesn't question the generationally handed down norms youth no longer feel are fit for purpose in the world they experience. So one way or another they problem-solve to survive in a world that doesn't recognize their issues. Parents are as frustrated and can no longer find the time to service their needs because gone are the days of one-income families of 4 last seen 50 years ago.
The process of learning and problem-solving starts with questioning our patterned institutional behaviours and cultural beliefs lending them support. Cultures, patterns of behaviours handed down through the generations which may have once served a majority of us well may no longer today and no longer deserve "respect" but change today. Learning isn't acceptance, it's systemic and progressive problem-solving moving forward. Labour accepts Australia's multicultural diversity united in an institutional system of secularism. A Democracy significantly different from what Dutton is talking about. Learning for him is acceptance of the past and its benefits for a shrinking and fewer fewer Australians who still remain largely white and privileged.
"Where the teachers lead the instruction and are supported to have orderly classrooms, where students learn respect, discipline, and 'how to think' not 'what to think'."
Source: Peter Dutton uses federal budget reply speech to attack government's 'missed opportunity' to help Australians in need | October 2022 Australian budget | The Guardian