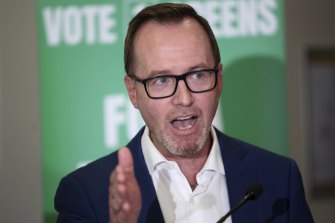 One senses that Costello's SMH, The Age and Ch9 is suggesting that the Greens and the ALP are at loggerheads on the matter of the  Anti-Corruption Watchdog more so than the LNP and Labor are. Why would that be? Why stir up problems where none exist, and in whose favour are they running this chaos theory in government as fact?
This article seems a totally confected piece of crap arguing trouble is brewing and running a "chicken little" scare campaign when in fact there is none. But rather there is normal discussion being held by two parties who fundamentally agree that an anti-corruption commission is necessary.
The Age seems to be doing its best to model itself on Murdoch media. An Opposition rather than a News and information outlet when it places AG Dreyfus having successful talks with backbenchers last rather than first in its report.
The Attorney-General declined to comment on specific features sought by the Greens. But a spokesman said Dreyfus had been encouraged by the consultations he had had with MPs and senators across the parliament.
Last month Dreyfus said Labor's legislation would build on the model advocated by independent Indi MP Helen Haines, who introduced a widely lauded integrity bill into the last parliament, as well as draw on the anti-corruption commissions already operating in states and territories.
Source: Australian parliament: Greens push Albanese government to broaden federal anti-corruption watchdog's scope and powers