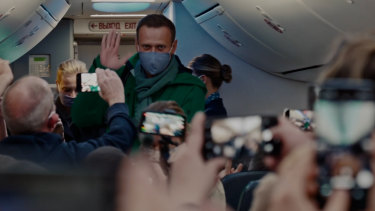 Russian agents reveal the their plot to kill Navalny
While Roher filmed, Navalny starts phoning the agents one by one to ask why they wanted to kill him. They hang up immediately so he decides to pass himself off as an investigating official asking why the operation failed.
Another agent, Konstantin Kudryavtsev, falls for the ruse and spends more than 45 minutes discussing the murder plot.
"We did it just as planned," he says. "The way we rehearsed it many times."
Kudryavtsev reveals the poison had been smeared inside Navalny's blue underpants. He thought the operation failed because the emergency landing allowed Russian medics to treat him quickly with an antidote.
After Navalny revealed the phone conversation on social media, Kudryavtsev disappeared and is presumed dead. While he feels for Kudryavtsev's family, Roher has no sympathy for the agent.
Source: Alexei Navalny poisoning: Documentary captures confession by agents