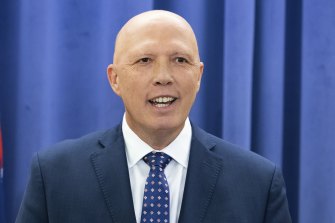 How welcome will this sabre rattler be in those "outer suburbs" like Dandenong after his Hansonite attacks on the Lebanese Muslims Africans and Chinese? Dutton has always been the man from the Monkey Pod room driving the LNP to the bigoted right. The Queenslander who helped Howard steal Pauline Hanson's space in Australian politics. Nothing has changed except he'll now be competing with the Nationals in the regions and allowing those Liberals with independent and singular community concerns go. Dutton was always right of Abbott never left of the mad monk.
As soon as Defense Minister Dutton was gone from the government China announced it would drop its security plan for the Pacific region, and has specifically said it was prepared to work with Australia. But  it simply wasn't prepared to work with any government prepared to simply use it them as a political tool for their domestic politics or one supported by Murdoch's Sinophobic divisive Media.
Outer suburban voters and small business owners will be Peter Dutton's target to rebuild the devastated Liberal vote as the Coalition shifts away from big business in a pitch to "forgotten people" and towards what it calls sensible action on climate change after years of division.
Source: Peter Dutton pitches to forgotten Australians in the suburbs to rebuild Liberal vote