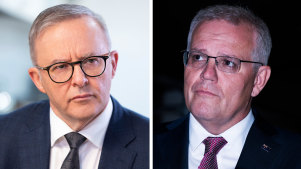 How many times did we hear this from Abbott and he never did. The LNP changed him at a time when only 51% of the numbers were needed to kick him out as their leader. Turnbull didn't change that and Morrison stabbed him in the back insuring he didn't have the numbers either. Morrison knew the culture of the party wouldn't pick a woman as leader even if Julie Bishop had all the skills for the job so it was between Morrison and Dutton.
Morrison then guaranteed he wasn't going down the same way by raising the numbers required to get rid of him. Nobody has said he wasn't an operator but that's all he is. Right at this moment, his intransigent support for Deves has put moderate Liberals under threat and Josh Frydenber is one who's come out and said he didn't agree with Morrison's pick to attract the religious Right Morrison knows only too well.  Sharma, Zimmerman and Archer as well can all rot as far as QAnon Morrison is concerned.
History has shown Morrison to be a "gunna" If he gets the job he's gunna "get the sack". Rest assured it's a road well travelled by Scott Morrison whose mates number the likes of Trump, Brian Houston, and QAnon fruit cakes like his best mate Tim Stewart. Scott Morrison hasn't changed in over 2 decades. He thinks he's a smooth operator but we've all seen he's not. He's the very opposite and members of his own party have called him out for it.
Asked about the Prime Minister's comments during his own press conference in Far North Queensland, Albanese said if Australians wanted change "then change the government."
"Scott Morrison today said he is a bulldozer. A bulldozer wrecks, a bulldozer knocks things down. I'm a builder, that's what I am, and If I'm elected Prime Minister, I'll build things in this country … I'll build the skills capacity of this nation up … I'll build people's living standards up," he said.
Source: Election 2022: Scott Morrison concedes he must change approach towards Australian voters