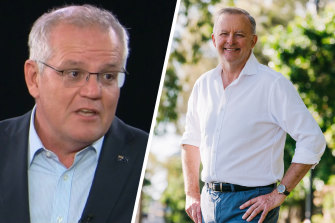 Morrison's campaign of Complacency. Yet another Bingle Scotty from Marketing seen crying out  "Where the bloody hell are you". Everything we've experienced and the media what the media has reported these past three years have been "False Facts".
How fucking unoriginal is that and that alone is why he's in a wilderness of his own making. He's always been just a shit for brains salesman.
Unlike Albanese, Morrison told his home crowd, "I'm not pretending to be someone else – I'm still wearing the same glasses, sadly the same suits, and I weigh about the same". Because "when you're prime minister, you can't pretend to be anyone else, you've got to know who you are otherwise how on earth are other people going to know.
"Perhaps the complacency of the Prime Minister's team, who think they can get away with the same campaign again. But more likely, he reckons, the complacency of Albanese's team that voters will trust he's not pretending to be something he isn't. The complacency of voters, who really like Australia and want it restored, not renewed. And most of all, the complacency of the commentators who the Prime Minister has dubbed people who are "constantly agonising and talking their country down".
Source: Morrison road tested his election pitch last week and, dear reader, it's not aimed at you