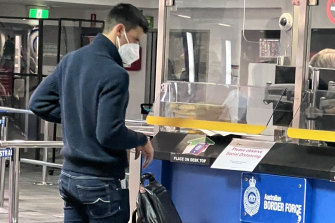 It seems the Government is more intent on their domestic political image than finding a solution to Djokovic's case. They did much the same when Kevin Andrews insisted Dr Haneef was a terrorist. Like Trump, they are now announcing their intention to hold Djokovic, no matter what the court's decision is. "Illegals" ar simply who the LNP says they are Dutton and Morrison mande that clear. More to the point now they need to prevent him from playing in Victoria the Labor State who simply said he was eligible to play in their event.
Morrison has proved to be the most bumbling PM in history. He and Abbott will go down as a pigeon pair. Abbott was fired a number of times historically and Morrison was fired twice once by NZ and again by Australian Tourism and the minister at the time. Jobless he entered politics. He obviously has a history and those sackings were justified given the way he conducts himself hasn't changed.
The submission also leaves the door open for the government to cancel Djokovic's visa a second time, even if the court overturns the decision. "An order for immediate release does not prevent re-detention if there is power to detain," the document read. Djokovic is in detention at the Park Hotel in Carlton after the federal government cancelled his visa to attend the Australian Open tournament. On Friday, he launched a court challenge to that decision and it will be heard on Monday.
Source: Novak Djokovic Australian Open 2022: Court showdown looms as Home Affairs defends interrogation