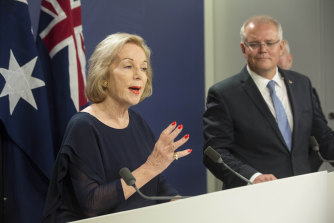 Morrison was there 8 years ago when Tony Abbott promised, but lied saying there'd be NO CUTS TO THE ABC before the 2013 election. Morrison "I never lied as a politician" was there supporting that promise and the turn around that followed it.  For the following 8 years Australia's Most Trusted News Caster has never experienced the intensity of the LNP's constant financial and cultural attack to cancel it. An attack so partisan and with such disregard to the Statutary nature protecting and governing our broadcasters existence that what's clear is that the LNP is anti- Australian Democracy and an Autocratic  party, That's been amplified year in year out by their other demands and particularly in 2021. Stricter Voting IDs to prevent fraud where there is none accompany the behind doors whispers to rid us of Compulsory Voting coupled with cancelling the ABC, our system od Democracy.
Senator Bragg's creation of a totally partisan and illegal committee into the ABC runs completely against all the regulations pertaining to it sabbotaging the board and it's very duties. So much so clashing with their LNP chosen Chairperson Ita Buttrose. All this includes Morrison who as Treasurer and now PM has supported these attacks. He has helped reduce the ABC's budget to the equivalent of 1984,has tried to enforce cultural change, and even supported having the ABC broken up and sold.
Yes,these ass-holes are intent on Americanising us by aping the current anti-democratic right-wing ideology of the current American Republicans. Bonded by the Murdoch, the IPA and welcomed foreign political advice.
Prime Minister Scott Morrison has backed a Senate inquiry into the ABC and SBS's complaints handling processes, rejecting ABC chair Ita Buttrose's accusation that it amounted to an attack on the public broadcaster's independence.