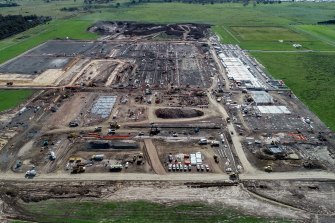 This was part and parcel of Morrison's National Quarantine Plan which he financed to be placed with the cooperation of Dan Andrews. Now Josh Frydenberg seems to be saying Victoria is the uncooperative outlier. How incompetent are these clowns as leaders and negotiators.?
Morrison capitulates to the Queens demands and Frydenberg declares it's proof of Australia's goodwill in cooperating at COP26. If the media doesn't criticize this bullshit we are expected to believe it's true when it's patently not what happened. Did Frydenberg bullshit his way through Harvard too?
Victoria's purpose-built $200 million quarantine facility still has a role to play in the pandemic, experts say, however it won't be as crucial as anticipated due to high case numbers and vaccination rates.The Mickleham "centre for national resilience" for incoming travellers won't be ready until the end of the year, however there is a risk it may become a white elephant if Victoria relaxes quarantine rules.NSW's move to effectively end quarantine for most travellers by opening international borders to those who are vaccinated from November 1 has raised questions over the purpose of the facility being built in Melbourne's north.
Source: Victoria's COVID-19 quarantine centre: Is the Mickleham quarantine facility a $200 million white elephant?