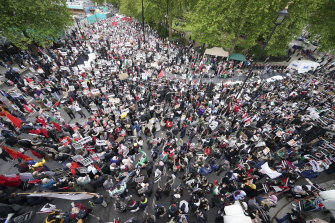 There is one Israel and there is 15mill Jews every Jew different. Here are two very different opinions one from Sydney and one from Israel.
Let there be no doubt about what these words mean to the people who coined them. They do not represent a call by everyday Palestinians against what they view as unjust policies of Israel. Nor is it an appeal for a Palestinian homeland to be established as part of a two-state settlement. The slogan is an aspirational bid for the state of Israel, which lies between the Jordan river on the east and the Mediterranean to the west, to be wiped off the map of the world. (One Man's opinion)

and
Human rights advocates and journalists applauded the Israeli newspaper Haaretz for its "unprecedented" cover story Thursday—one featuring the photos and stories of 67 Palestinian children killed in the latest bombardment campaign by the Israel Defense Forces. "This is the price of war," the headline read. The article came a day after the New York Times published its own extensive account of the youngest victims of Israel's most recent 11-day offensive, in which the IDF frequently targeted residential areas of Gaza, known as the world's largest open-air prison. Haaretz's focus on the children killed in Gaza was especially noteworthy, said author and Brooklyn College professor Louis Fishman, considering the newspaper's "readers also send their children to fight in Israel's wars." "This is unprecedented," Fishman tweeted.