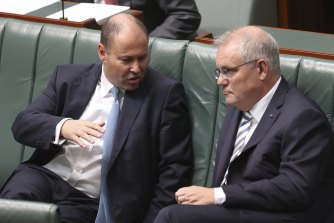 Politically, this budget had to offer a convincing response to the report of the royal commission on aged care. Reports have suggested fixing the broken system would take extra spending of about $10 billion a year. He settled for spending an extra $3.5 billion a year. Major patch-up at best. The scandals will continue. Politically, Morrison had to make this a women-friendly budget, to prove he valued women's contribution to the economy and remove impediments to their economic security. Making childcare free would have been a big help to young families, as well as greatly increasing employment. That would have cost about $2 billion a year. Morrison settled for $600 million a year, or one childcare-using family in four by excluding the great majority, who have only one child in care.
The truth is, at this stage the economy is still running on the stored heat of last year's massive budgetary stimulus, much of which has still to be spent. The purpose of public-sector stimulus is to get the private sector – households and businesses – up to ignition point, so it keeps going under its own steam.
That hasn't happened yet. So the purpose of the further stimulus in this year's budget is to keep the kick-starting going until the private sector's engine gets going.
Source: Federal budget 2021: Josh Frydenberg, Scott Morrison's good effort at marketing misses main chance