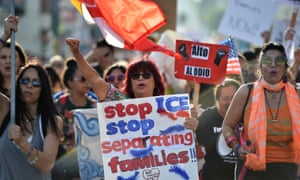 Jeff Sessions, reached for a biblical verse to defend his department's policy of separating migrant parents from their children at the Mexican border, suggesting that God supports the government.
Sarah Sanders, I can say that it is very biblical to enforce the law. That is repeated throughout the Bible."
use of religion to justify its laws is another step in an alarming direction . The government is not only unaccountable: it is doing God's will. There should be no focus on the brutality of law, only on obedience to the sovereign. Sessions, the grand mufti, had pronounced his fatwa.
Source: Trump is creating his American caliphate, and democracy has no defence | Nesrine Malik | Opinion | The Guardian