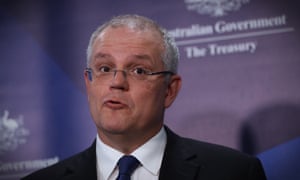 When you force the ABC to take down an article that questions your logic you know something is wrong. Since when has Turnbull taken on the role of ABC editor?
On Friday, the ABC took down Alberici's analysis, citing that it did not conform to the broadcaster's editorial standards. Frankly, the article – which has been republished on John Menadue's blog, is not all that different in focus from analyses by Ian Verrender published by the ABC last year, The Age's Peter Martin and various others, including myself.
Arguing that company tax cuts may not have the impact that the beneficiaries say will result is hardly controversial.
As I noted in January, Moody's credit rating agency said of the US company tax rate cut from 35% to 21% (compared with a reduction from 30% to 25% proposed here) that "we do not expect corporate tax cuts to lead to a meaningful boost in business investment".
But given most people don't get excited by business investment (or increased business profits), companies here have followed the lead of their US counterparts, and are saying a tax cut is needed to increase wages.
It's all a bit of smoke and mirrors.
via Turnbull's attack on Emma Alberici's tax-cut analysis doesn't add up | Greg Jericho | Business | The Guardian