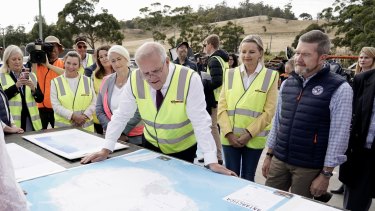 This is what is meant by the expression " Wagging the Dog". A totally manufactured and produced hi-viz photo shot accompanied by a totally fabricated fact, a lie about the NSW train strike on TV and in the media. Solely designed to turn Morrison's dwindling chances of an election win around. Morrison and his team must have watched the 1997 movie "Wag the Dog" starring Di Niro and Dustin Hoffman who showed them how to come back from the dead.  It was about a failing President's (PM) election chances needing to be  turned around in 11 days by the application of Fake News. Morrison has been mirroring the same tactics to a tee. Should anyone of Morrison's media production team reveal the truth they too might go the way of Dustin Hoffman in the end.
Scott Morrison campaigning in Tasmania this week. He attacked unions over the shutdown of Sydney's network even as it was clear the state government had shut out its workforce.

Source: Federal election 2022: Will wage growth play into the polls?